Penile prosthesis in the final stage of Peyronie's disease
Final stage of Peyronie's disease
In severe cases, Peyronie's disease does not only cause deformities but also reduces the functionality of the penis.
Peyronie's disease lead to:
Deformities of the penis (curvature, indentation, etc.)
Loss of penis length
Erectile dysfunction
Loss of sexual desire
Peyronie's disease causes erectile dysfunction
Severe cases of Peyronie's diseases can lead to significant erectile dysfunction, which puts further strain on the patient's psychosexual well being. Affected men often withdraw socially, avoid intimacy and face depression.
Even in cases of this severity, there is a solution. The treatment includes both implantation of a penile prosthesis and correction of the penile curvature.
Choosing penile implants offers a successful treatment for severe forms of erectile dysfunction. However, this should be considered as the last resort, since the implantation of a penile prosthesis is an irreversible process.
Out of all therapy options for erectile dysfunction, penile prostheses receive the highest patient satisfaction and partner satisfaction. Studies show up to 98% satisfaction rate.
– Schematic illustration of a penile prosthesis –
A penile prosthesis neither replaces your penis nor your sensitivity.
Penile prosthesis – what's that?
The thought of a penile prosthesis often makes men feel uncomfortable. This should not be the case as a penile prosthesis does not replace the penis, it substitutes the mechanism of erection which is no longer functioning by placing hydraulic cylinders inside the cavernous body (see illustration).
– Where is the penile prosthesis implanted? –
The cylinders are being placed inside the erectile tissue of the penis
Life with a penile prosthesis
The appearance of the penis remains fully normal, its sensitivity, the ability to orgasm and ejaculate as well. Solely the stability of the penis changes – to the better.
Men who are using a penile prosthesis decide for themselves when and how often they want to experience intimacy. Many men describe their experience with a penile prosthesis as a second spring of their lives, a revival of their personal life.
Suffering from the final stage of Peyronie's disease – what now?
If you are suffering from a severe form of Peyronie's disease and erectile dysfunction, come in for a consultation with Dr. Kuehhas. Having an open and in-depth consultation is taking the first step to a better future. Contact us to make an appointment!
Read more about penile prostheses on the following pages.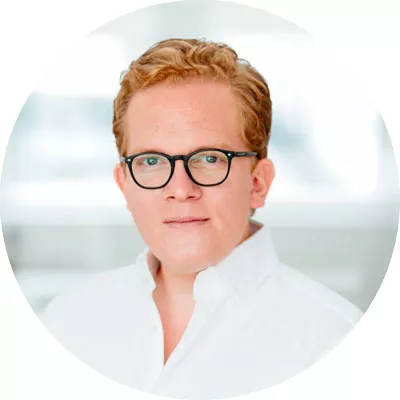 Dr Franklin Kuehhas is a medical specialist in the field of urology and andrology. He received his specialization training at the University College London. He also underwent his training at the prestigious University Hospital in Heidelberg (Germany) and at the University Hospital of Vienna (Austria). Dr Kuehhas focuses on the treatment of congenital and acquired penile curvatures (Peyronie's disease). His research activities have resulted in many publications and improvements of surgical techniques such as the STAGE technique for congenital penile curvature treatment.